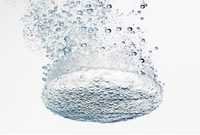 CHLORITARD
Product Description
CHLORITARD is the unique way to treat / disinfect entire bulk of water required for all activities at the ' Point of consumption '.
When a CHLORITARD pouch is suspended in a water storage tank, it releases chlorine slowly in the water for a period of at least 30 days continuously.
The amount of chlorine released is sufficient to kill the bacteria as well as maintain desired level of free residual chlorine (above 0.2 ppm)
CHLORITARD advantages
1. Since chlorine gets released very slowly, CHLORITARD has
much longer shelf life
as compared to that of bleaching powder.
2. While using
CHLORITARD
it is not necessary to ascertain the chlorine demand of water because CHLORITARD pouch automatically releases amount of chlorine required to satisfy chlorine demand and maintain
free residual chlorine.
3.
CHLORITARD
application /usage depend upon the quantum of water consumption.
4.
The chlorine level of the water being treated with CHLORITARD remains consistent for a period of at least 30 days.
Therefore problem of drastic variation in chlorine levels with time encountered in other methods of chlorine dosing including by bleaching powder is totally eliminated.
5. As one
CHLORITARD
pouch works effectively for at least 30 days, the problem of climbing up the ESR every day is eliminated.
This
leaves very little scope for irregularity & lapses in dosing
, which are more harmful.
6. When
CHLORITARD
pouch is suspended in water storage tank Calcium does not get transferred to water but remains in the pouch. This eliminates problem of sludge formation and necessity for frequent cleaning of the tank.
CHLORITARD pouches sizes suitable for 30 days of chlorination
Code

Suitable for water tank

Pouches required as per Source of Water

A

B

CRT50

500 lit

1

1

CRT100

1000 lit

1

1

CRT200

2000 lit

1

1

CRT500

5000 lit

1

1

CRT1000

10000 lit

1

1

CRT2000

20000 lit

2

1

CRT2500

25000 lit

2

1

CRT5000

50000 lit

2

1
A: Treated water from sewage /effluent treatment plant
B. Potable water
For Higher Size of tank, please consult us

Qty of pouches & consumption will depend upon the type of pre treatment, treated water quality, desired water usage & its quantity.

Quantity of chloritard pouches required depends upon the quantity of Water usage per day. ( Stagnant/Un utilized water will lead the increase in Chlorine concentration)