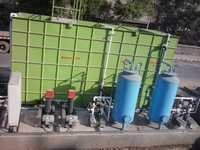 Mbbr Sewage Treatment Plant
Product Description
Since our establishment in the year 2006, we have been indulged in manufacturing, exporting and supplying Mbbr Sewage Treatment Plant. This plant is assembled using the finest quality components and avant-garde techniques with the help of our ingenious professionals at our production unit. The provided plant is extensively used for treatment of sewage by removing contaminants and reduces pollution from residential and commercial areas. Further, our esteemed clients can purchase this Mbbr Sewage Treatment Plant from us at affordable prices.

Features:

Convenient to use
Excellent functionality
Robustness
Quick processing
Further Details:

When on the surfaces of moving parts the growth of number of micro-organisms increase, this is called bio-film. Through Moving Bed Bio-film Reactor technology, this bio-film grows in a protected manner on the engineered plastic packing within the reactor of specified volume with high internal surface mixed thoroughly through the liquid phase and through regular movement within the reactor with specific volume, this degrades the contaminants.

These contaminants need to be eliminated for treating the wastewater, which are food for the growth of bio-film. Hence, for the enough supply of oxygen and food to the micro-organisms, bio-carrier designs are essential. These bio-carriers are made of polypropylene (PP) and have particular gravity similar as wastewater.
To keep the bio-carriers entirely mixed with the reactor and suspended, there is a requirement for engineered design of aeration system.
Aerated water from reactor flows through a sieve or grid that retains Bio-carriers in the reactor. Sedimentation is engaged after the aeration tank to reduce the sloughed off bio mass from aerated waste water.

Process Benefits

Compact Design
A fraction of the size of traditional systems
Expandable
By mounting the fill fraction of bio-film carriers, capacity can be increased conveniently.
Single Pass Process
There is no requirement for activated sludge stream
Load Responsive
To load fluctuations responds automatically the actively sloughed bio-film
Minimal Maintenance
MLSS levels to maintain or No F/M ratios
CUSTOM BUILT SEWAGE TREATMENT PLANT HOUSING/TOWNSHIP APPLICATIONS
| | | |
| --- | --- | --- |
| Characteristics | Inlet | Outlet |
| PH | 6.5 to 8.0 | 6.5-8.5 |
| COD, mg/l | 400-500 | Less than 50 |
| BOD, 5 days @ 20 deg.C, mg/l | Up to 250 | Less than 20 |
| Suspended solids, mg/l | Up to 200 | Less than 20 |
| Oil & grease, mg/l | Up to 50 | Less than 10 |
| | | | | |
| --- | --- | --- | --- | --- |
| Plant capacity | 10 m3/day | 30 m3/day | 75 m3/day | 100 m3/day |
| No. of people served | 125 | 400 | 625 | 940 |
| Plant model | HSTP-10 | HSTP-30 | HSTP-75 | HSTP-100 |
| Type OF WASTE | Domestic sewage | Domestic sewage | Domestic sewage | Domestic sewage |
| Electro-mechanical equipments | | | | |
| Description | Qty | Qty | Qty | Qty |
| Biological system | | | | |
| Perforated Bar screen | 01 no's | 01 no's | 01 no's | 01 no's |
| sewage lifting pumps. | 02 no's | 02 no's | 02 no's | 02 no's |
| Aeration system | 1 set | 1 set | 1 set | 1 set |
| Bio reactor tank, | 1 | 1 | 1 | 1 |
| Tube settler tank( hopper bottom) | 1 | 1 | 1 | 1 |
| Chlorine contact tank | 1 | 1 | 1 | 1 |
| Chlorine dosing tank with piping | 1 no | 01 no | 01 no | 01 no |
| Electric control panel with cables – | 1 no | 01 no | 01 no | 01 no |
| PVC synthetic media for Bio reactor tank and secondary tube settler | 1 Set | 1 set | 1 set | 1 set |
| Interconnecting pipeline, valves & fittings, in CPVC & UPVC | 1 Lot | 1 Lot | 1 Lot | 1 Lot |
| Tertiary Filtration system | | | | |
| Filter feed pumps | 02 no's | 02 no's | 02 no's | 02 no's |
| Pressure sand filter | 01 no's | 01 no's | 01 no's | 01 no's |
| Pressure activated carbon filter | 01 no's | 01 no's | 01 no's | 01 no's |
| Sludge dewatering system | 1 set | 1 set | 1 set | 1 set |
List of civil units
Septic tank/collection tank

Suitable

Suitable

Suitable

Suitable

Plinth for mechanical equipments, as required

1

1

1

1

Electrical load (working)

3.5 kw

3.9 Kw

2.7 kw

3 Kw

Foot print size *

10 m2

18 M2

25 m2

35 M2

Project cost, in Rs.

Electro mechanical

Rs.46/litre

Rs.22/litre

Rs.21/litre

Rs.18/litre

Approx. civil cost( including 6 hrs cap treated water tank)

Rs. 8.9 /litre

Rs. 8.5 /litre

Rs. 8.5 /litre

Rs. 8.7 /litre

Approx Operating utility cost( Electrical& Chemical)

1.94 paisa/litre

1.3

paisa/litre

0.7 paisa/litre

0.62 paisa/litre
Notes :
1.Civil Units Are Not In The Scope Of Supply
2.Sewage Generation Quantity Is Considered At 100 Liters/Person/Day
3.Actual Project Cost Will Depend Upon The Actual Site Conditions
4.Inlet & Treated Outlet Piping Not In The Scope
5.Civil Cost Will Vary As Per The Site Condition
6.For Firm Quotation& Prices , Please Consult Us