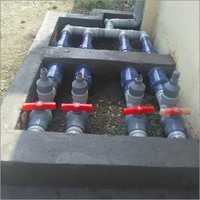 Rain Water Harvesting Systems
Price And Quantity
300000.00 - 100000.00 INR
Product Description
Leveraging on years of expertise and experience, we have become one of the prominent providers of a huge range of Rain Water Harvesting Systems. We have attained expertise in offering value added collection of matchless quality Rain Water Harvesting Systems. With the aid of these high technology systems, our clients can easily done rain water harvesting, recycling of treated sewage/waste water, bore well water treatment, swimming pool filtration as well as recycling. We ensure to provide rain water harvesting for effectual utilization of the available water sources as well as generation of new water sources. We have been offering high end solutions for bore well water treatment, ultra pure water treatment like reverse osmosis, UV systems, recycling of treated sewage/waste water for non potable applications, Lake & pond water revival, swimming pool filtration & recycle, mobile water purification plants, etc. Our prime aim is to develop potable water from own bore well or open well. We have been catering to the demands of the patrons with efficient range of products designed in different sizes and specsofaictions.

Features:
Long lasting life

No maintenance

Easy to install

Abrasion resistant

Free from rust
Application Areas:
Industries
Residential
Commercial places
Further Details:

Rainwater harvesting (RWH) offers several benefits and still is a simple low-cost technique that demands minimum knowledge or expertise. In rural areas for drinking water purpose, the most commonly used technique is rooftop rainwater harvesting in which rainwater collected rainwater on the roof is transported through gutters to a storage tank and here it provides water at the consumption point. Gathered rainwater can supplement other sources of water when they turn out to be low quality like saline ground water or are scarce. Further it also offers a decent option and substitution in times of drought or when the wells go dry and water table drops. This technology is adaptable and versatile to a vast range of conditions. It is brought into use in the poorest and richest societies as well in the driest and wettest of areas.

Working Principle

Rainwater gathered at the rooftop is transported via gutters to a storage tank or reservoir, where it provides water for consumption. Vast assortment of systems an be availed for RWH systems and for treating water during, before and after storage, also that prevents water from contamination.

Capacity/Adequacy

By the measure of precipitation or rainfall the supply is limited. This also limits the size of the storage reservoir and catchment area. These storage reservoirs can differ in size from a single cubic meter to 100 cubic meters for extensive projects. But normally these are sized maximum up to 20-30 cubic meters for residential system.

Performance

The quality of rainwater is generally better than all the other available or conventional sources of water (groundwater may be not taken into use due to salinity, fluoride, arsenic, etc.)

Self-help Compatibility

Building of RWH systems can be easy and simple depending on the scale. Local people can build these easily through very less training. This results in increased participation, cost reduction and encouragement of sustainability & ownership at the level of community.

O & M

Regular maintenance and proper operation is an essential factor which is overlooked often. For the successful running of systems regular, cleaning, inspection, maintenance and repair from time to time is important.

Reliability

Drinking water of fine quality can be obtained, if the system is well built and maintained.

Main Strength

It collects and take in to use the water which would otherwise have been lost at consumption point.

Main weakness

The supply of water is limited by the size of rainfall, storage reservoir & catchment area.

Applicability

In rural areas small-scale rooftop rainwater harvesting can be installed anywhere: the technology is easy to adapt and is flexible for a very wide range of conditions. It can be used in the poorest and the wealthiest of societies, and also in the wettest and driest parts of earth. This gathered rainwater can be useful when the other sources of water become scarce or the quality of water becomes low. In addition, this offers a very good alternative during the times of drought or at times when wells go dry.

Advantages

Systems can be maintained and controlled by the users themselves without relying on others
With little training local people can build RWH Systems which results in increased participation, sustainability, ownership in rural areas and also reduces cost
From conventional & other sources of water rainwater is much better
It can save time of drawing water from cities and also the cost of buying water
Local geology and topography can not affect it
Any type of roofing material can be used for gathering water for domestic use

We are dealing in Maharashtra only

Trade Information
Maharashtra, Madhya Pradesh, Gujarat