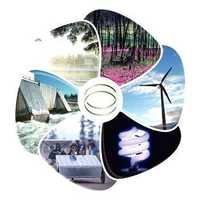 Renewable Energy Utilization Services
Product Description
Backed with matchless expertise and skills, we have been offering value added solutions of Renewable Energy Utilization Services. Our team of experienced professionals works hard to provide the best to the patrons. We have been offering highly valued solutions designed after years of expertise and research. The services, offered by us, are developed keeping in mind the different needs of the patrons to ensure complete satisfaction of the patrons. We design the collection of Renewable Energy Utilization Services to guarantee optimum utilization of the renewable energy sources. Our offered services also aid clients reducing the use of depleting non- renewable resources. Our services are provided using high-grade tools, equipment and machines according to the national and international quality norms. We have been providing cost effective services to the patrons as per the exact demands of them to ensure to provide the high end solutions within their budget.
Our range of services of Renewable Energy Utilization Services includes:
Solar water heating for industrial as well as domestic purposes

Solar PV cells

Micro wind turbines for the applications of electricity generation

Lighting applications
Application Areas:
Institutes
Residential Townships
Industries
Ware Houses
Government Offices
Individual Homes.
Further Details:
Renewable & Energy Efficiency

As our society has started to seek solutions for reducing greenhouse gases feed-in tariffs, cap-and-trade emissions trading, and smart grid systems are some of the initiatives and innovations which have emerged. At EEI, we help our clients through research conduction and probability assessments, analyzing risks and making recommendations for investing money in energy efficiency and renewable energy.

In the U.S., we regularly keep an eye on state, federal, and regional initiatives, efforts, legislation and incentives to support renewable energy and energy efficiency. We work together with governmental staff, regulatory staff, companies and industry stakeholders who are engaged actively in renewable energy programs and energy efficiency.

Brussels office of EEI's offers regulatory, technology, and policy research on implementation of renewable energy systems and efforts in Europe. For a sustainable energy future the European Union's three pillars have planned about 20% reduction in greenhouse gas emissions, 20% improvement in energy efficiency and 20% renewable energy use by 2020. This has resulted in European energy utilities to apply essential actions to meet these aims. There is a global attention to the European practice from this innovative energy landscape. EEI's widespread dealings with European utilities have positioned us at the front of advancement and the innovative practices developing as Europe is transforming into a low-carbon economy.

We advice the owners of commercial and industrial buildings about the most reasonable and energy efficient designs for buildings.

EEI can offer a variety of choices for you to think about. EEI is in the front of principal energy efficient solutions and technologies.

To make your building energy efficient and independent, you may look at the available choices. A net zero building defines a building in which the total energy needs are produced on site. It is the best available solution for making your building energy efficient. There are several designs available to achieve this.

Keynote projects:

EU incentive machinery for renewable energy comprising the examination of Green Certificate Systems & Feed-in-Tariffs
EU zero-energy practical experiences and buildings policies
European White Certificate programs and energy efficiency utility commitment
Gas smart metering execution in Europe
Solar thermal combination into utility selling programs in Europe

We are dealing in Maharashtra only

Trade Information
Maharashtra, Madhya Pradesh, Gujarat