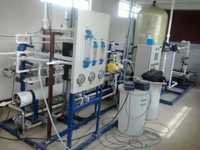 RO PLANT
Product Description
Supported by a team of skilled professionals, we are able to offer quality assured RO Plant to the clients. With the aid of cutting edge tools and techniques, this plant is assembled using superior grade components under the stern observation of our industry experts. The provided plant is used in food and beverage, agriculture and several other industries for eliminating ions, molecules and bacterias to make it fit for several other purposes. In addition to this, the offered RO Plant can be purchased from us at market leading prices.

Features:

Hassle free performance
Less maintenance
High durability
Excellently engineered
Further Details:
The RO System operates on the basis of Hyper-filtration, also known as Reverse Osmosis. This is one of the finest way or technique for treating water; it removes contaminants from water, hence making it fit for domestic use, drinking purpose, other industrial and commercial applications. These RO systems are provided with an activated carbon filter and sediment pre-filter as the membranes are degraded by manganese, bacterial attack, chlorine, hydrogen sulfide and iron. Innovative RO systems are also attached with water softeners.

Advantages:

Stainless Steel made Plant Skid
Pre Filter In FRP Vessel
Raw water pump/ Feed Water Pump
Pre Filter with GAC/ Jumbo Housing/ Sediment in 20"
Vertical Pump of High Pressure
Automatic Anti-Scalant dosing pump
Auto control panel with single switch with LCD/ LED Display for easy operation
FRP/SS Membrane housing
High Quality PVC/SS Piping
Membrane clearing system
Online TDS/Conductivity meter
High/low pressure switch
Design for optimized flow recovery & rate
Efficient removal of up to 95% of total dissolved solids (TDS) or salinity to generate ipure , safe & clear water
For monitoring treated water On-Line Instrumentation (Flow meter & Pressure Gauges) are installed
PROCESS OF RO PLANT

RAW WATER PUMP:-

To create pressure for down the line system.

PRESSURE SAND FILTER (PSF):-

With the help of Pressure sand filter unit, the water is first filtered and suspended matters & turbidity are removed.

ACTIVATED CARBON FILTER (ACF):-

To remove Odor, Color, Chlorine, Grease & Oil from raw water.

MICRON CARTRIDGE FILTER (MCF):-

To remove micro sized particles, pressure vessels are fitted inside with pleated or spun element.

ANTISCALANT DOSING SYSTEM:-

Membrane is prevented from scaling or hardness.

HIGH PRESSURE PUMP:-

At high pressure of 10-12 kg/cm2, a high pressure pump is given to supply feed water to RO system.

DESALINATION SYSTEM BY RO MEMBRANE ELEMENT:-

90-95% of Total Dissolved Solids gets rejected through Reverse Osmosis.

OF TREATED (PURE) WATER:-

It is used for keeping pure or treated water in tank.