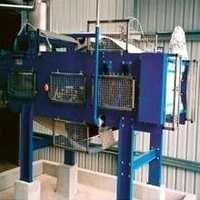 Sludge Dewatering Equipment
Price And Quantity
200000.00 - 1500000.00 INR
Product Description
Sludge Dewatering Equipment, designed by us, is known in the market for excellent performance, high efficacy and durability. Our products are designed for efficient cleaning applications to sludge collected in wastewater. We have been offering high end products that offer complete support in the reduction of organic matter as well as disease-causing microorganisms. The range of products is designed and worked on the principle of pressure feeding that ensures optimum output support. Additional, the system is also ideal to support reduction in the moisture content of the sludge considerably as well as allow easier handling of the industrial wastes. The range ensures solid liquid separation with high efficacy and performance. The system is also designed as per the different specifications and needs provided by the clients.
Features:
Systems are designed for offering efficient cleaning support to sludge accumulated in a wastewater
Helps in decrease of organic matter as well as disease-causing microorganisms
Machine works on the principle of pressure feeding that offers optimum output support
Supports decrease in the moisture content of sludge drastically
Allows easier as well as swift handling of all the industrial wastes
Ideally designed for solid liquid separation
The system can also be designed tailor made as per the specific needs of the clients
Ideal for dewatering low as well as high concentrated sludge
Procedure includes sludge conditioning, draining cycles and bag filling that are controlled through the integral control panel
Further Details:
Which Sludge Dewatering Technology Best Fits Your Needs?

Sludge disposal/handling costs are among the three most important O&M costs every wastewater facility has to bear. There is a big impact of sludge dewatering system on these costs. For several years, sludge dewatering has been controlled by a few options of equipment. In most of the facilities installed in 1970s cumbersome vacuum filter systems are used giving way to best filter presses and early generation centrifuges. Belt filter presses were the commonest dewatering equipment through most of the 1980s and 1990s. For the last few years a number of advancements and innovations are made in sludge dewatering equipment. Now-a-days several dewatering substitutes are available for the treatment facilities. Every available option has its own benefits and disadvantages and assortment of maximum applicability. We are below giving the highlights of some of the best available options:

Belt Filter Presses

For several years Belt Filter Presses, have been standardized for industry use and are continued to be the substitute for several plants. However, these systems are convenient to operate and almost every plant operator is familiar with its functioning, these systems are relatively difficult for odor mitigation.

Centrifuges

Centrifuges are in market for quite a long time and the present generation of these centrifuges is quite ahead of the early generations. Several trustworthy manufacturers of centrifuges are there in the industry. However, these systems are a quick dewatering device and require regular and scheduled repairing & maintenance; these are operator friendly and remarkably reliable. They are highly flexible for handling fluctuating sludge conditions, and these perform nice in straight activated sludge applications. They generate often the driest sludge cake. They are self contained to make odor control easy. For numerous plants with incinerators and for mid-sized plants and for several smaller plants which do not contain basic sludge, Wright Pierce has designed centrifuge systems recently.

Rotary Disc Press

Comparatively the rotary disc press technology is newer. It was introduced by a Canadian manufacturer, Fournier Industries a number of years back. It has been altered recently and several other manufacturers of this technology have entered the industry. Feeding of flocculated sludge is involved in these systems, between two parallel rotating screens within every disc assembly that rotates gradually on a single shaft. Dewatering equipment can include 1 to 6 discs assemblies per unit. Slow rotational speed and the fact they are self contained are liked by most of the operators. Best working of these systems depend upon primary sludge fraction.

Inclined Screw Press

The technology of inclined screw press was initiated into the treatment plant in Europe over a decade back by a German Manufacturer named Huber Technology. In this system feeding of flocculated sludge is involved into an inclined screw rotating. As the rotary disc press, the screw press works on a slow speed and is self contained.

Horizontal Screw Press

The horizontal screw press is approximately the same to the vertical screw press, except in the way that configured in a horizontal display. Usually, the horizontal press is put to use where there is a need for higher capacity and the need for traditionally designed press arises to meet the anticipated sludge quantities. A Japanese manufacturer FKC, had marketed such kind of presses for several years in the paper and pulp industry as well as in other industrial sector. In aaddition, recently it has manufactured such kind of systems for municipal treatment plants. This kind of press can also be used for stabilizing through quick lime and steam the sludge to generate a Class A Biosolids. Apart from this horizontal screw press are also manufacture by Huber. Currently Wright Pierce is designing its first municipal application in New England for Merrimack, NH of a horizontal screw press.