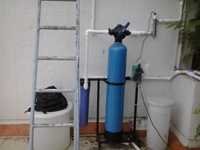 Water Softener Plant
Product Description
Owing to our transparent business practices, we are indulged in providing Water Softener Plant. The offered plant is ideal to be used for commercial and residential applications to purify water by removing calcium and magnesium ions. We offer this plant within committed time frame at cost effective prices. With the aid of contemporary tools and techniques, this Water Softener Plant is manufactured using optimum quality components under the surveillance of our dexterous professionals at our well-equipped production unit.

Features:

User friendly operations
Easy installation
Rugged design
Effectiveness
Further Details:
Hard water is found unsuitable for several domestic and industrial purposes. Water which contains Magnesium and Calcium ions more than required is referred to as hard water. Carbonate harness is called temporary hardness and non-carbonate hardness is called permanent hardness. Degree of hardness depends upon the quantity of magnesium and calcium ions in water. These ions originate from limestone sediments and from CO2 that is present in water which is exposed to environment especially in ground water. Water can be softened in the easiest manner through ion exchange process.

HASSLES OF HARDNESS

With detergents hard water reacts adversely. It can even turn soft towels into rough of your little ones
Shampoos and soaps do not leather up and you may even feel yourself unwashed. This may turn your skin dry. Hard water can turn your hair dry leading to hair loss
Hard water results in the deposition of residuals and builds scales up. This can damage your appliances like washing machines, heaters, dishwashers, showers, etc. This reduces the life of appliances by up to 25%. Also causes fading and deterioration of fabrics, and reduces fabric life by 15%
Scales are left by hard water that clogs faucets, pipes, fixtures and pipes. Cleaning power of detergents gets reduced by hard water while the requirement of detergents is reduced by soft water by 70%.
Modifies the water taste and food taste. Cooking time gets increased than before and consumption of cooking gas is increased by 30%. Scales are deposited on utensils.

WATER SOFTENING PROCESS

Ion exchange process is called softening of water and is done through resin, it probably the most common and easiest way of removing hardness from water making it appropriate for utility purpose. As is clarified by its name, ion exchange is the process in which for gaining desired ions, undesired ions are exchanged. The softening procedure includes passing of raw water carrying hardness through a bed of resin in the form of sodium. Ions (Ca and Mg) causing hardness are absorbed by resin and in exchange, the ions of sodium are released from it. This procedure is called service cycle in which hard water is softened.

REGENERATION PROCESS

Raw water continues to soften until the resin is exhausted. Regeneration of resin is known as bringing back resin. Sodium Chloride (NaCl) solution regenerates softener resin. The solution is kept in the regeneration tank. Through ejector tube salt solution is injected into softener during regeneration. Salt solution replaces Mg and Ca from the resin. Depending upon the design of the water softener plant, the regeneration is done every day for several weeks.