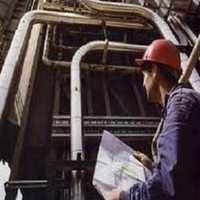 Water Treatment Plant AMC Service
Product Description
Located at Pune (Maharashtra, India), we have successfully affianced in rendering Water Treatment Plant AMC Service. In order to render this service with high precision, the provided service is executed under the supervision of our deft professionals by the team of highly experienced professionals. We take contract of proper maintenance, cleaning and repairing of water treatment plant on yearly basis. In addition, the provided Water Treatment Plant AMC Service can be availed at reasonable prices from us.
Features:
Perfectly execution of tasks
Rendered in a hassle free manner
Provide cost-effective solution
Further Details:

Operation and Maintenance Contracts (O&M)
In this comprehensive Contract, we undertake the complete responsibility of the Plant to produce the treated water of the designed quality & quantity. We provide the required Manpower, spares & consumables for trouble free operation of the Plant.

Annual Maintenance Contracts (AMC)
Preventive maintenance is taken care by the Annual Maintenance Contract. Trouble-free operations, longevity of components and lower downtime are ensured by AMC. Our services include scheduled maintenance and inspection of the plant.

Water Audits

Water Audit Study is a quantitative and qualitative examination of water consumption which identifies the ways of recycling and reuse of water. The efficiency of entire water circuit is also maintained by AMC. Schemes for efficient treating of water and segregation of effluent streams are included in this study. Social responsibility is encouraged through water audits. This analyzes the wasteful use and enables estimation of potential saving. Water conservation is promoted through it. This helps in delivering cost effective solutions and help organizations in safeguarding public property and health.

Plant Monitoring Services

Performance of the plant is ensured by us. Our service package includes scheduled maintenance & inspection, laboratory services and service visits.
Automation

Automation of existing plants is carried out by us for the reduction of cost and manpower. There is an increased need for automating process as manpower cost is getting increased day by day. We offer total support for automating the traditional plants to achieve constant performance with less cost and human interference.

Up gradation /Revamping

We improve/Revamp the present Water Treatment Plants for Quality/ Capacity enhancements as per the requirements of customer. The Up gradation or Revamping jobs are taken care by a unit of professionals, who have years of experience in the domain of Water Treatment.

Operation and Maintenance

Laboratory analysis;
Regulatory reporting;
Collection system operation
Certified operator of record;
Routine maintenance;
Emergency services;
Facility troubleshooting and evaluation;
Chemical sales; and
Management

Regulatory permit liaison and compliance;
Designing and implementation of repairs/ upgrades;
Sampling and administration of pretreatment program;
Monitoring of Combined Sewer Overflow (CSO);
Planning, Budgeting, and customer billing; and
Bio-Solids/ Sludge land coordination and application permitting
Improvements

Repair, installation and sales of Blower and pump;
Repair, calibration, installation and sales of Flow meter;
Repairing and Installation of air piping, diffusers, and wiring
Package-type sales of treatment plant
Development and implementation of facility improvements

We are dealing in Maharashtra only



Trade Information
Maharashtra, Madhya Pradesh, Gujarat