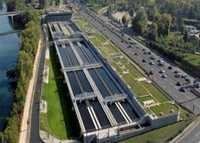 Water Treatment Plant Designing Services
Product Description
We have become one of the leading Service Providers of Water Treatment Plant Designing Services. With years of expertise and experience, we have been offering valuable solutions to the patrons. Our services are provided after years of research and expertise by skilled team of professionals. We are supported by vast expertise and skills in the respective field that ensures reliability of our matchless range of water treatment plant designs and solutions. The array of services includes supply, installation and post installation according to the different demands of the patrons. Our vast expertise lies in the domain of process designing, mechanical equipment design as well as other related domains that make certain to provide compatible solutions to the clientele. In addition to this, we are also highly efficient providing civil as well as electrical load designs provided by the customers.
Features:
Rich expertise and skills in offering dependable water treatment plant design services
Services include supply, pre installation and post installation support
From process designing, mechanical equipments designing to other related areas, everything is done with utmost precision.
Offer complete support of civil as well as electrical load designs essential by the customers
Plants designs and plans are based on cost effective ion exchange method for efficient performance support
Superior plant designs for eliminating varied contaminants present in water
Application Areas:
Hotels
Industries
Resorts
Schools
Spas
Further Details:
Whether it is port facility for restoring mineral slurry carrying water at a coastal desert or running a new analytical water supply under a river or, extending treatment facilities large within a watershed, we provide you with the best time for the successful deliverance of your project.
Areas of Water treatment projects in which we have expertise are:
water disinfection, including sodium hypochlorite, ozone, and UV

head works, including tunnels, dams, and intake structures

pipelines, including valve stations and tunnels, with diameters up to 120" in high seismic areas and poor soil conditions

pump stations, including dry wells, booster stations, and wet wells
We find water treatment solutions as per the needs of our clients.
Water treatment processes
On the sort of water source and raw water quality depend the design of the waterworks. At Ramboll, we have designed a vast range of waterworks based on surface water treatment plants and groundwater abstraction.
Our key expertise covers the areas like procedure design, detailed design and layout; we can help the clients both with review and up gradation of prevailing facilities and new waterworks. We may render support at all stages, from the conception of analysis and ideas, through conceptual design and process dimensioning, detailed tendering to construction and design, and commission of the plant, buildings and SCADA system.
Wastewater treatment processes
To ensure the quality of water it is important to focus constantly on well operating wastewater treatment plants and wastewater discharge. We are experts in the areas of process layout, design and detailed design within chemical, biological and physical process design of wastewater-treatment. In the areas like sludge treatment, tertiary treatment, sustainable sludge disposal and anaerobic digestion, we can help you with the facilities both for new plants and modernization of existing plants.
We follow every project across all the stages, from the conception of ideas & analysis, through detailed design, process dimensioning, conceptual design, commissioning of the plant and tendering to construction. We act as a leas consultant and take responsibility for mechanical engineering, processed design. We use resources within the technical disciplines like electrical engineering and automation, civil structures, HVAC, Sludge treatment, reducing emissions and pollution, handling organic waste, Avedøre and SCA spildevandscenter.
We are counted among the forerunners in the domain of sludge and organic waste treatment, providing expert solutions within sludge and organic waste treatment, how to take organic matter in to use to produce biogas and hence reducing gas emissions in the climate, how to reduce pollution and odor in the matter. We combine our competence within our energy, waste water, and polluted ground water & soil services; we render complete solutions for our customers.
Operation and maintenance
Occurrence of several problems can be avoided with the systematic maintenance and planned operation of water and wastewater treatment facilities. This on the other hand offers the customers with the confidence to provide extra resources where they are necessary.
We have invented a straightforward system which helps the user in the maintenance of basins, canals, buildings, and pumping stations efficiently and in managing the operations.
We are dealing in Maharashtra only
Trade Information
Maharashtra, Madhya Pradesh, Gujarat